Quetzalcóatl: Aztec Tales, Legends, and Music
Join us alongside Literacy Inc., NYC Reads and City's First Readers, for a celebration of Mexican traditions of central Mexico, one of the world's great cultural epicenters.  
Aztec Tales, Legends, and Music feature Mexican Storyteller, Valentina Ortiz, and Los Mariachi Angeles de New York.  Valentina will share stories of Quetzalcoatl, the agile and cunning plumed serpent; the essence of life and wisdom who is often at the center of the tales about the origin of the world, the cycle of the sun, the creation of humans, and the birth of music, food, and happiness. 
Storytelling will be followed by Mariachi Angeles de New York, music from the hearts of young people, who from childhood gathered in the community to learn the musical traditions of their ancestors and preserve the art form for future generations. Literacy advocates from Literacy Inc., Reads, and City's First Readers will welcome families with fun activities and children's books!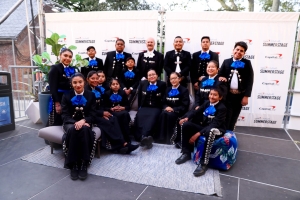 About LINC, NYC Reads, and City's First Readers:
Literacy Inc. (LINC ) works at the intersection of education and community development to make literacy a value and a right of all children. LINC's mission is to equip children with foundational literacy skills essential for academic achievement by empowering families and mobilizing the community. Create your own home library and sign up for our free and fun programs available for families with children, five and under: www.lincnyc.org  
NYC Reads combines the collective effort of 11 partner organizations with local community resources to enhance literacy culture and increase the number of children who enter school prepared to learn and to sustain academic achievement. At the heart of Reads is the belief that literacy is the key to all future learning and a shared commitment by all partners to work together to support children in attaining and exceeding reading proficiency. Receive a free children's book. Take the Reads Pledge: https://nycreads.org
The New York City Council's Early Literacy Initiative, City's First Readers, uses the power of early literacy and the strength of collaboration to create equity for children in every New York City neighborhood. Together we ensure that children from all backgrounds have a solid foundation to start school successfully, thrive academically, and succeed beyond their school years. https://citysfirstreaders.com
About The Artists: 
Valentina Ortiz is a Mexican multidisciplinary and multilingual storyteller, musician, and writer with extensive experience in community-based work. Four books and four records show her intense work registering personal and community stories. She has toured and implemented workshops and long-term artistic community projects in diverse settings and local contexts, in Mexico, the U.S., and across the globe. Her repertoire includes theater, music, visual arts, and multilingual storytelling in Spanish, Nahuatl, English, and French. Valentina is the recipient of Mexico's Ministry of Culture Grant for her production Canción para Omecihuatl. 
Mariachi Angeles de New York is a group of young musicians between the ages of 11 to 20 who have participated in events such as Summer Stage, Art Space, and other cultural events across NYC. The group was officially formed during the start of the COVID-19 pandemic by students who wanted to keep taking classes virtually, despite closures and interruptions. The group emphasizes education above all else. 
Date: Saturday, November 19th, 2022
Time: 3:00 pm.

Venue: Alianza Dominicana Cultural Center

Address: 530 W. 166th Street, New York, NY 10032

Tickets: FREE with RSVP
Date: Sunday, November 20th, 2022
Time: 3:00 pm. 

Venue: El Barrio's Art Space PS109

Address: 215 East 99th Street, New York, NY 10029

Tickets: FREE with RSVP