¡Viva la Revolución, Viva la Masa! with Sobre Masa
Next Sunday november 20, celebrate Mexican Revolution Day with us at Sobre Masa tortilleria & restaurant! Mexican chef Zack Wangeman  and his wife Diana Wangerman created a special three course menu for the occasion. We will reveal more details of this special gastronomy experience soon.
Zack Wangeman, founder and chef behind the beloved Brooklyn tortilla brand and cafe, Sobre Masa, and his wife Diana Wangeman, open in Bushwick. The vibrant space features a tortilla factory that sells fresh, house-made tortillas alongside Mexican groceries and goods, a morning coffee shop with Oaxacan coffee and house-made Mexican pastries, as well as a taqueria with a variety of traditional taco styles and cocktails highlighting Mexican spirits. Zack's mission and ethos behind Sobre Masa Tortilleria is to promote conversation around Mexican culture, the rich history of heirloom corn, the hardworking producers and growers of Mexico, and his home, Oaxaca. 
Zack Wangeman was born and raised in Oaxaca, and has worked at some of the world's most acclaimed restaurants, including Celler de Can Roca, Etxebarri and Per Se, all while consistently traveling back to Oaxaca to immerse himself in Mexican food and culture.
As a result of nostalgia for the food of his hometown, Zack started hosting pop ups in New York a couple of years back that featured quality, authentic ingredients, all while and allowed him to develop his nixtamalization techniques, gain a deep understanding and respect for the process, and tap into the Mexican corn farming community to shine a light on the varieties of heirloom corn and the role it plays in his culture.
Diana Wangeman, who graduated from medical school with a surgeon degree, was also born and raised in Oaxaca, where her mother is the well-recognized chef and owner of Tierra Antigua, she grew up around the corn and has always been cooking with her mother traditional dishes from generations.
MENU
1. Memelita
Frijoles, hongos con epazote y chapulines.
2. Asado Oaxaqueño
Skirt steak, nopales, charred onions, beans and tortillas.
3. Tamal
Pineapple, raisins and cochineal.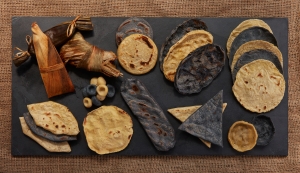 Date: Sunday, November 20, 2022
Time: 4:00 pm.
 Venue: Sobre Masa restaurant
Address: 52 Harrison Pl, Brooklyn, NY 11237
Phone: (347) 844 2343
Tickets: $65.00