REENCUENTROS: WORKS FOR THE SCREEN IN TIMES OF LOCKDOWN
For dance, the pandemic entailed a sudden absence of spaces where the practice usually happens. Studios and theaters shut down to protect life, so artists were confined in their homes without the possibility of coming together. However, faced with an urgency to respond, choreographers, dancers, teachers, and students turned the situation around. Homes became theaters, studios, rehearsal rooms—encounter spaces for dance to keep going through the internet and its various platforms for connection.
The works in this selection account for different processes at various moments in lockdown, which show how dance, in spite everything, continues to move.
After the screening, there will be a talk with artists Gustavo Lara, Stephanie Sherman, Stephanía Fierro and the curator of this program, Hayde Lachino, to discuss the meaning of creating during these complex times. The dialogue will be moderated by Stephanie Garcia in English and Spanish.
Elongación temporal (Temporary Elongation, 2020). A piece by Gustavo Lara and Marco Antonio Silva. In this work, Silva, choreographer and director, reflects on the impact of the pandemic on creators. The film brings together the intimacy of a dancer and a choreographer with the context of the pandemic in Mexico.
Film in Spanish with English subtitles
Donde brillas tú (WhereYou Shine, 2021). Featuring choreography by Stephanie Sherman, an artist from the U.S. with ample work experience in Mexico, this piece presents a young woman dancing in an empty square in Oaxaca. The lyricism of the work harmonizes with a landscape that appeals to female solidarity and a state of tranquility, necessary during these times. Donde brillas tú also features music by Diana Gameros, a Mexican singer-songwriter based in the United States.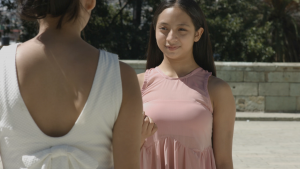 Mar afuera (Off-shore, 2020). This visual and choreographic experimentation piece was commissioned by Mexico's National Dance Company within the framework of Ludwig van Beethoven's 250th anniversary. With choreography conceived through Zoom by Claudia Lavista, Mar afuera is a creative response to lockdown and the inability to work in person during the pandemic.
This program is presented in collaboration with the CUNY Mexican Studies Institute and NYU Latin American and Caribbean Studies.
This showcase is available for viewing:
Saturday, October 30th at 3:00 pm CT / 4:00 pm EST
Streaming available worldwide for 24hrs.
RSVP is required:
Watch our registration tutorial!